Food and Restaurant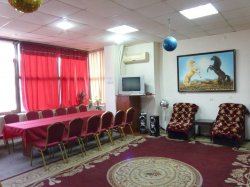 Cuisine is the basis of every nations' hospitality.
Having tasted the armenian dishes just once you will certainly like them, and, therefore, like Armenian culture and its centuries-old traditions.
The menu of "Lernagorc" restaurant includes meat and fish hot dishes, fresh healthy vegetable and herb salads, delicious meat, vegetable or milky soups and a wide range of desserts. They are: Khashlama (meat with boiled eggplant, raisins, onion and greens), Jhengyalov Hats (vegetarian delicious fresh vegetable salad in a special flat bread) and Rose hip soup (soup made of rice and freshly cooked local Rose hip juice). Qabab made of beef is very tasty as well.
The hall of "Lernagorc" restaurant is envisaged for 300 guests. It is a wonderful place for celebrating birthday parties, feasts or spending free time together with your friends.
The VIP halls of the restaurant can accommodate 4, 8, 15 people and are very comfortable for business and friendly meetings.
Besides delicious regale "Lernagorc" restaurant and cafe offers its visitors music, dances and entertainments.
"Lernagorc" restaurant is open every day:
Monday-Thursday – from 11.00AM- 12.00AM
Friday-Saturday- from 11.00AM- 02.00AM
Sunday- from 11.00AM- 12.00AM