About us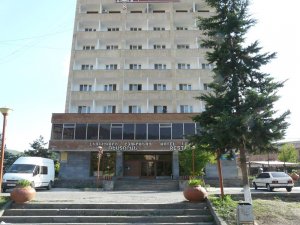 "Kapani Lernagorc" Hotel Complex is located in the center of Kapan city, at the confluence of the Voghji and Vachagan rivers' right bank.
It was built in 1979. The hotel was privatized by "Kapani Lernagorc" LLC in 2000.
All the rooms have stunning view over the city Kapan and in the southern part you can enjoy the view of the Syuniq nature's queen Ghustup mountain.
The hotel is high-rise and has 9 floors. The hotel has 40 rooms and can accept up to 95 guests.
The hotel's comfortable rooms are provided with constant hot and cold water, heating system, cable TV and all the needed hotel furniture.
"Lernagorc" restaurant is situated in the 2nd floor of the hotel complex. It can cater up to 300 people. The restaurant can also serve as a hall of business forums, meetings and seminars. There is an internet club in the 1st floor of the complex.